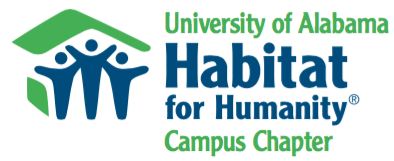 The University of Alabama chapter of Habitat for Humanity supports Habitat for Humanity by engaging University of Alabama students in advocating, building, educating, and fundraising. Our team is thrilled about increasing Habitat for Humanity's presence on the University of Alabama's campus with multiple Habitat Build days, awareness events, fundraising opportunities, and rehab projects.
Participation
Habitat for Humanity is always looking for great volunteers to help on Build days as well as at the local Restore. Find out how to get involved through the applications below.
By taking part in Habitat for Humanity projects, students gain awareness about their civic responsibility; develop their form of servant leadership; & build organizational awareness about Habitat projects nationwide.
Leadership
Daniel Nielson – Team Leader, Organizes all programming events
Abigail Wolfe – Fundraising
Alexus Porter – Affiliate Liaison
Austin White – Weekday build days
Holly Edmiston – Weekend build days
Jenna Minser – Green efforts
Josie Rodriguez – Fundraising
Kahari Williams – Education/Awareness
Meredith Coleman – PR/Marketing
Natalie Buzzard – Finance
 Habitat for Humanity Projects Gallery
This is a view of projects throughout the years.