Each year, the Center for Service and Leadership, in conjunction with The SOURCE, puts on the Service and Leadership (SAL) Awards. The SAL Awards give special recognition to student organizations and individual students who have been instrumental in providing quality programs, opportunities for involvement, and community service to the campus and to the Tuscaloosa community throughout the year. Award nominators and nominees are invited to attend. Below is the link to the 2021 nomination form.
Awards given each year include: Star Bloom Volunteers of the Year Award; the Henry M. Lipsey Heart of Service Award; Community Partner of the Year Award; Barbara Grimes Selfless Service Award; and the Distinguished Leader Award.
2017 Recipients
Star Bloom Volunteers of the Year Award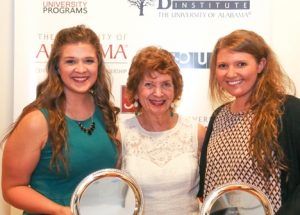 This accolade goes to the student, or students, that best demonstrate the mission to educate students for civic engagement and leadership as well as giving students diverse service engagement opportunities. They are committed to engagement programs that promote education and awareness of community needs and resources leads to opportunities for social problem solving. They go above and beyond in helping to forward the mission and value of community service at the University of Alabama. They are doing their part in creating a better tomorrow.
Henry M. Lipsey Heart of Service Award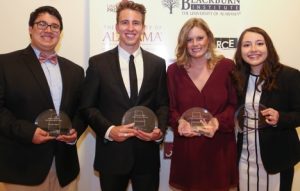 The spirit of the Henry M. Lipsey Heart of Service Award is best encapsulated by the words of Robert Greenleaf. He wrote, "The servant-leader is servant first, it begins with a natural feeling that one wants to serve first, as opposed to wanting power, influence, fame or wealth." The award has a three part criteria: Goodwill (Acts of compassion to others in the Tuscaloosa community); Justice (Conformity to the principles of equity and inclusion in all things); and Servant Leadership. Anyone can nominate a student for this award.
Unless Service Award