Each year, over 1,000 university students volunteer as mentors to help mentees with completing homework, reinforcing reading and math skills, and participating in enrichment and recreational activities.  Al's Pals mentors commit one afternoon weekly from 2:45 p.m. – 5 p.m. for 10 weeks during the semester to serve elementary students in 1st through 5th grades at local school sites. It's a great way to get involved and meet fellow students while making a difference in children's lives.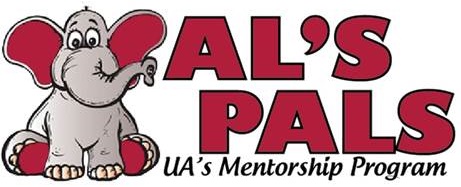 Are you a mentor or student leader? Please review the Al's Pals Member Manual
How to Participate
Sign up
New Mentors: Fall 2018 interview sign-ups are now closed.  If you are interested in mentoring for the Spring 2019 semester, check back in late November for interview sign-ups.
The Al's Pals office is located in the Center for Service and Leadership, 1100 Ferguson Center, to the right of the Supe Store.
Returning Mentors:  Fall 2018 renewal applications are now closed!  Check back in late November for renewal applications.
Interview
All interviews take place in the Ferguson Center, first floor, within the Center for Service and Leadership.
Background Check
Have an up-to-date background check. Options for a background check are:
Email us a copy of your current completed background check from
previous employment or volunteer activity. It must include a national search and be less than one year old.
OR
Use Risk Mitigation: This is through the university and costs $23.
If you have website errors, please contact info@riskmitigation.us
Orientation
Attend orientation session and complete online training module.
Interested in a leadership position? People who have previously served as an Al's Pals mentor are welcome to apply to be a grade level leader.  Look for the grade level leader application to open in November for the spring semester.
Transferable Skills
By taking part in Al's Pals, student volunteers learn about their civic responsibility to the community, gain conflict management and resolution skills, and refine decision making skills.
Identifying your transferable skills and understanding their value to employers will increase your effectiveness in the job search.
Leadership
Staff
Lynette Campos, M.Ed, Coordinator, Al's Pals
Joshua Nunn, Graduate Student Assistant
Sarah Spruill, Graduate Student Assistant
Jared Morgan, Graduate Student Assistant
Madden Sciubba, Graduate Student Assistant
Katie McCauley, Team Leader:  Emails and member placements at all sites
Assistant Team Leaders
Abby Jacobson
Anthony Preziosio
Daniel Richardson
Dalton Harris
Gracie Smith
John Kuzmich
Lexi Lewis
Marco Santana
Paul Roth
Savanah Hiers
Contact Al's Pals