Bama Year One is a freshman, service-based experience where students will examine service as it pertains to leadership. They are also given opportunities to apply servant leadership principles and discover areas with the Center for Service Leadership for future involvement.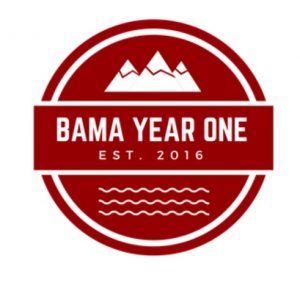 The experience is based around TIDE – Transition to college life, Identify and Develop the students' interests and strengths with respect to service, and Enable students to discover their unique service passion.
Bama Year One Small Group
Welcome to the 160 student leaders that are a part of a Bama Year One small group! If you were unable to sign-up for a spot and would like to be contacted if a spot becomes available or are interested in joining in the spring, email kekruchten@crimson.ua.edu
Please apply for Bama Year One small group if you are interested in joining a small group for the Fall semester!
Transferable Skills
By taking part in Bama Year One, freshmen students develop their civic awareness and engagement skills; hone their interpersonal communication skills; and explore leadership development.
Identifying your transferable skills and understanding their value to employers will increase your effectiveness in the job search.
Leadership
Kendall Kruchten- Bama Year One Team Leader
Maribeth Vain- Curriculum and Training (Training)
Meghan Flynn- Curriculum and Training (Curriculum)
Donedra Falls Group Leader Development (Email/Service Opportunities)
Madison Giddiens- Group Leader Development (Email/Meeting)
Katelynn King- Administration (Attendance)
Marc Tuthill Administration (Treasurer)
Caroline Doughty- Social Media
Mae Crumbley- Community Outreach
Anne Chamberlain- Community Outreach
Bran Apgwilym- Photography and Media
Contact Bama Year One