Bama Year One is a freshman, service-based experience where students will examine service as it pertains to leadership. They are also given opportunities to apply servant leadership principles and discover areas with the Center for Service Leadership for future involvement.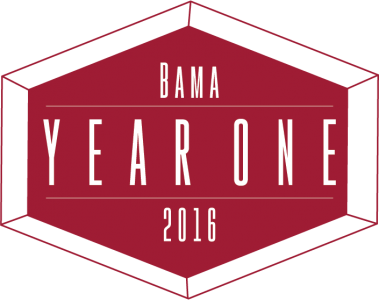 The experience is based around TIDE – Transition to college life, Identify and Develop the students' interests and strengths with respect to service, and Enable students to discover their unique service passion.
Transferable Skills: By taking part in Bama Year One, freshmen students develop their civic awareness and engagement skills; hone their interpersonal communication skills; & explore leadership development.
Team Leader: Allen Engle – General information and speaking requests
Assistant Team Leaders:
Betty Bowles – Media & Outreach 
Christina Scott – Public Relations
Claire Carpenter – Curriculum Development
Donedra Falls – Administration
Kendall Kruchten – Curriculum & Training
Madison Giddiens – Group Leader Development
Mae Crumbley – Media & Outreach
Maribeth Vain – Group Leader Development
If you are interested in joining a small group, please click here to review the groups and time slots!
Contact Us
Team Email Address: bamayearone@sa.ua.edu